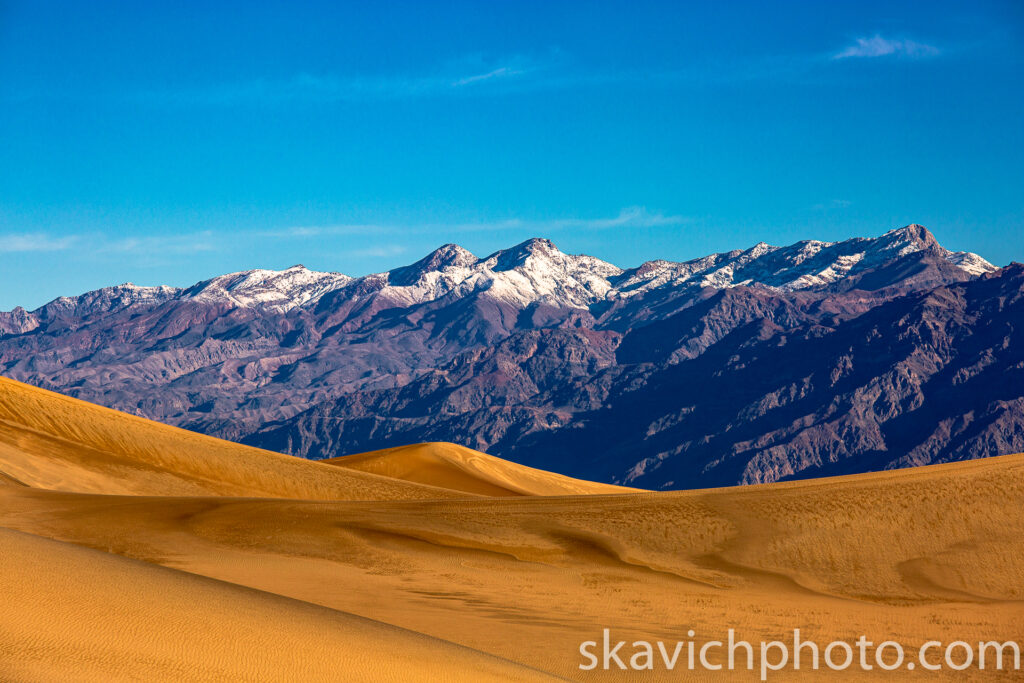 It is my last day in death valley national park and the plan is to head to the mesquite dunes for sunrise. Opting to take a different route than my previous adventure from the other morning I started off into the darkness of the sand mountains. One thing that is interesting about hiking in the dunes here in the dark is how much more deceiving the darkness is in the perception it puts on in height and pitch has the light increases I definitely found myself looking over the edge of where I was perched and thinking funny that didn't look so steep 20 minutes ago. Soon the sun breaks over the horizon in the distance the sky is flat blue with no real clouds or anything to bring out a lot of color so the intent is to try to focus on capturing compressed images and photos that create a compliment in the scenery, after spending a couple of hours in the dunes it is time to head out and back to camp to eat and pack.
The return flight home isn't until the night so I still have time to make a stop or two on the way out and the first one will be at Zabriskie point to take a few images of the contours while it is not the best light with some creativity it was worth the stop.
The next spot is on to Dante's peak which is definitely worth the stop as the drive up is fun and the view once you are there is amazing. Taking the time to admire the view and take a few images before I have to say goodbye to this place that has quickly captured with inspiration and a strong desire to return for more.
Eventually it is time to hit the road and leave this beautiful place and park. There is still one or more stop along the way and that is to see the red rock canyon in Nevada just outside of Vegas. There is just enough time and day light left for me to stop at a few locations and capture some of the unique formations that compliment the land. Whats is also pretty cool about this place are the amount of climbers that scale the canyons walls. After exhausting the last moments of my time before I miss the plane it is also time to wrap up what had been an amazing trip covering some beautiful places along the way.
This trip was an amazing adventure for me and both these parks have so much to offer as far as life experiences and photography opportunities. This was a straight forward simple route that I would recommend to anyone and someday myself plan on doing again.