Death Valley Whirled To Zion: Day 2 Golf With The Devil To Dunes With Witches
The sky is overcast to start out the day and the texture in the cloud filled sky will work well in a composition with the terrain in the area known has Devils Golf Course. This was my first time here and the name is very fitting as these jagged and rough obtrusions stick up all over the place in a maze of structures that raise off the ground anywhere from 18" to 24" needless to say this isn't the best place for a hike never mind a game of golf. After stumbling around searching for some good ground to set my tripod and myself on to get a photo composition eventually balancing my way into a good spot. While observing the surrounding area during 30 second shutter exposures, there happens to be a dead bird on the ground starting to decompose in the crusted salty mud, I find it some what ironic and eerily fitting to the name of the place to see such a site, welcome to Death Valley I remind myself.
Not hanging around here long and with a good adventure planned for the day its back to the campground for breakfast and to break down camp as I'm heading backcountry for a few nights. After packing up I head to the hotel at Stovepipe Wells and to see about using the shower at the pool. At the curtesy desk I buy a pass from the person at the counter who for some reason currently unknown to me (soon to find out, lol) gives me the pass for free. Thinking to myself that was really nice to get the pass for free and there is a sense of that was cool. Only to arrive to the men's shower and find out its in the middle of renovation and not usable. Noticing that the lady's showers are open and there is no one around I ask the guys working at the men's facility if its possible to use the ladies showers really quick if there is no one here. They say sure go for it so I do and do so quickly because they leave and I don't want to be caught off guard unexpectedly in the women's room, imagining that would be awkward to explain, lol.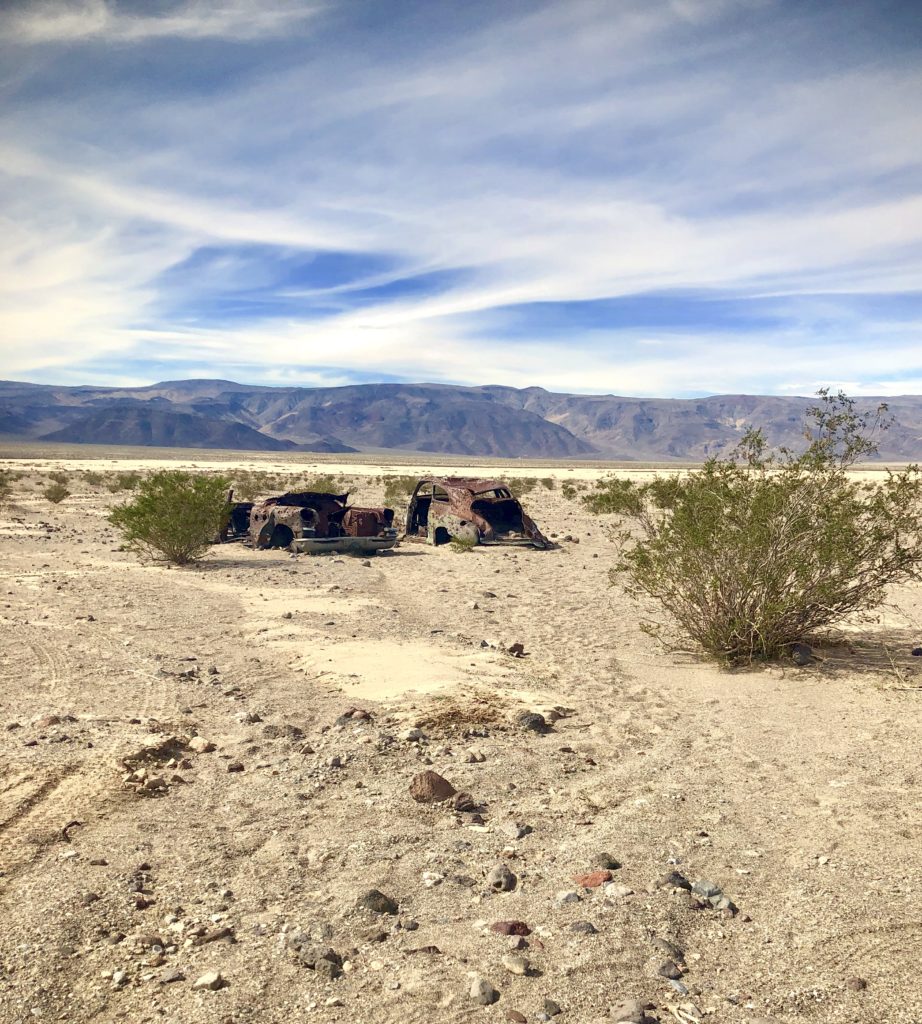 Next stop involves going west on 190 over the Panamint pass on the way to Panamint Sand Dunes the hardest dunes to reach in the park and I'm looking forward to it. The drive up Panamint pass which cuts through the mountain range of similar name is a quite fun and interesting stretch of road (as is all of Death Valley actually) it's nicely paved and full of dips and turns that keep you on your toes as you first ascend up to 5000ft and then descend that 5000 ft. You can see the treacherous mistakes of vehicles that have either gone to fast, lost control or either lost their brakes, it's a good reminder to pay attention to the road. I love driving this stretch of road the scenery and views on the drive are amazing. Once down over the pass and into the Panamint Valley area of the park its a veer off to the right on a backcountry high clearance semi 4×4 needed road depending on the conditions as there is a section of deep sand and rain washout areas that cut through in some places. The feeling of openness starts to really come over me heading out off the beaten path.
The drive down the rocky and occasionally sandy road eventually passes along side a couple of old abandon cars form the mining days that serve as a reminder to where you are. Once at the end of the road there is two vehicles in the parking lot but it doesn't matter the chances of seeing anybody in this huge area are slim and I'm here for isolation.
This hike will require a lot to bring as I will be camping by the dunes tonight so having to carry my photography equipment, my camping gear, food supply and enough water for 24hrs which works out to be about 2 gallons between a couple of bottles and the jug around my neck in a separate small backpack. It seems like a lot of water but this is a desert called Death Valley for a reason and its 90 degrees out with a desert floor feel of well over 100 and thats a lot of gear to hike for three hours across the cooking terrain. Additionally I make sure to have a good long sleeve spf top and wide brim hat with a bandana tucked in to shield my neck I also have pants to protect my legs form the scorching sun.
Heading down what loosely resembles a trail there is really no clear cut trail, you can see footprints for awhile but eventually they disappear and you are pretty much on your own to navigate your way. It seems straight forward at first glance as you just kind of head for the dunes they are easy to spot as you have to hike up 1500ft in elevation to reach them. But it is tricker than it appears and everything looks closer than it really is in the desert. So if you don't take enough of a direct course initially and head to straight up you will find yourself encountering endless wash out ravens that you often have to zig zag around to find away safely across, which can add a lot of time onto the already moderate hike. Also if its hot its not fun I know thats what happened to me and while it was a nice adventure a more direct route would have been highly appreciated. As I finally make it to the dunes completely soaked in sweet a change of shirt is needed and quickly set up camp has I'm losing light faster than anticipated.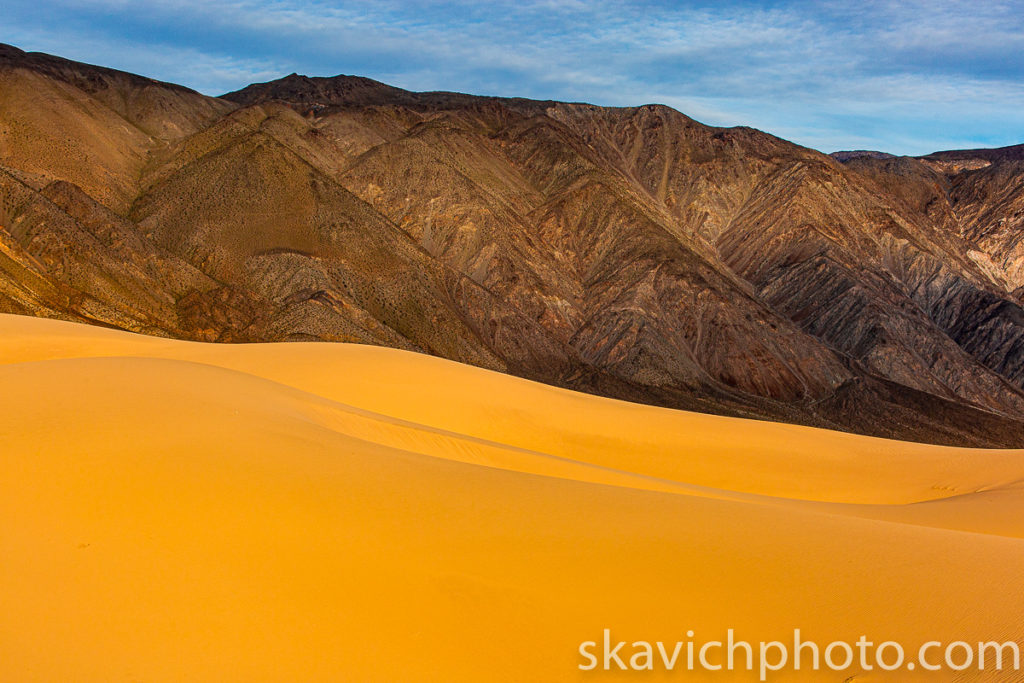 After finding a few compositions and some perspectives this turns into a good evening to photograph. The sun slowly fades more and there has some signs of color amongst the clouds that make for a nice image. After packing up from the sunset session I head out to find some possible shooting locations to photograph for sunrise after finding a potential spot that seems like it should work and I head back to camp for dinner. There is a beautiful view of the valley below from the campsite at night you can see the night sky so well with no light pollution and the ridges of pyramid shaped mountains line both sides of the dessert valley below. This area actually has a colorful history far off in the distance in a ridge there is a pass that leads to a place called Barker Ranch this is where they eventfully caught up with the Manson Family and finally arrested Charles Manson(cool story btw). The oddities of the Panamint area don't stop there even more bizarre is the story of the five cult witches who disappeared here over 20 years ago and apparently one of their remains where found in the dunes, story of the witches. I don't really think much of it overnight but it does add an odd vibe to camping here.
To purchase Limited Edition Fine Art Prints of national parks photography and award winning ocean imagery visit my website at skavichphoto.com