These two diverse and serene national parks are within a short distance of each other and they once took me on a road trip to both spectacular places. The route would be fairly straight forward and pretty much a one way drive has the plan was to land in Las Angeles. After picking up a rental, I figured a Nissan Frontier would be suiting for this trip, then it is a fairly short and two and a half hour drive to Joshua Tree and along the way the drive itself gets better with scenic nature as you leave the city of Angels. This road trip would be my first time to both of these national parks and admittedly for some reason I was always curious about Joshua Tree thanks to the album by the band U2. As for my curiosity in Death Valley ever since childhood geography class the place always intrigued me and thanks to some iconic photographers who's work I have admired, it finally called me to explore.
After finishing the drive and arriving at Joshua Tree National Park it took me awhile to get my bearings and find the campsite at Jumbo Rocks campground, which I had to reserve online because in March this can be a busy time of the year and there was plenty of evidence of that with how crowded the campground was. The way the sites here are was a change for me spending most of my time camping in more wooded remote locations where your able to obtain privacy and this was one thing that bothered me about Jumbo Rocks was just how close some sites were, at the same time it is still an amazing camping spot full of interesting rock formations. So after getting settled into camp and with a couple hours of light left I went on the search for firewood and supplies at the nearest store before trying to find a place for a sunset photography session. After a quick drive through the park I decided to head up to Lookout Point and it was busy and I was just able to get a parking spot as the light was fading quicker than anticipated. Walking up to the viewing area there was a fair amount of onlookers watching the fading sun. The sky is mostly flat no clouds or color except for a slight orange red in the distance between the mountains. I'm finding it hard to come up with much for a composition and kind of just enjoy the view and I'm glad to be here while taking a couple silhouette images amongst the fading light. Back at the campground for dinner and an evening fire before heading to the tent for the night. This will be first time camping in the desert and I realize what they say about the desert being colder than you think it will be at night is true and this was a long chilly not so restful evening.
In the morning I'm up early and the plan is to make it to the cholo Cactus garden for sunrise. I am there early as I keep myself on a somewhat east coast time frame and in the parking lot I make myself some breakfast and tea, it feels great to be here in the morning air amongst the surroundings of JTNP. After a moment to prepare myself for the day I walk through the cactus maze in search of a composition before the rising sun. The sky is unfortunately flat in color with no clouds so this composition will need a good amount of foreground. After hiking around for a bit and settling on an array of cholos to center around.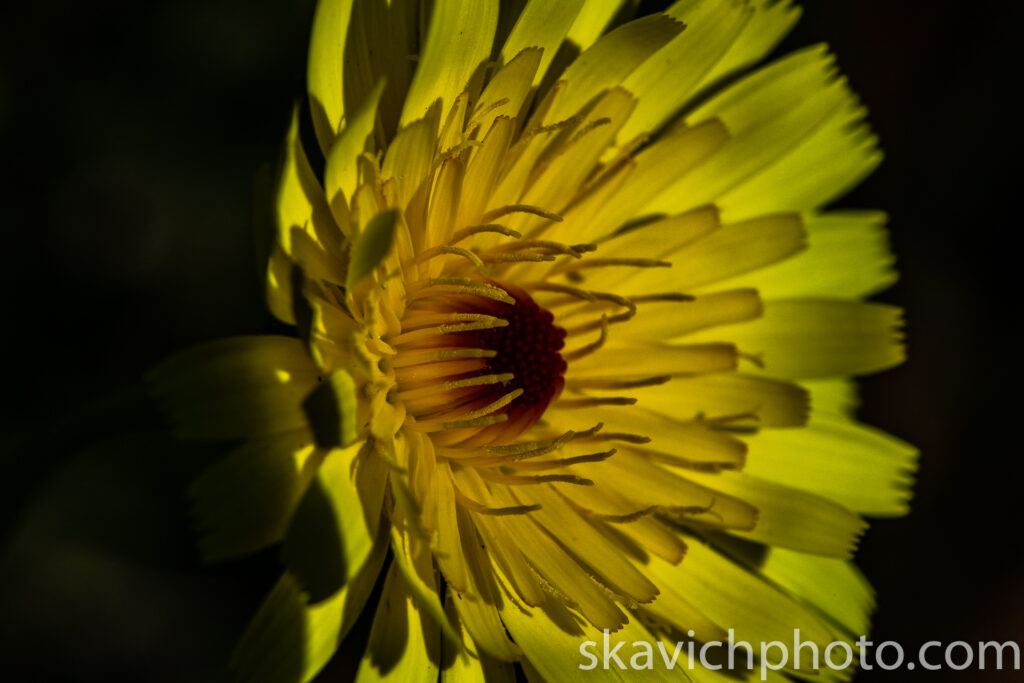 Eventually getting an image I'm happy with and decide to take a drive to explore the rest of the park and head down to the cottonwood visitor center it is an enjoyable and scenic drive with some nice views. But what grabs my attention is the mass of wildflowers that has begun to spring up on the desert floor next to the road. They are not in abundance but there is enough around to make a stop and take a moment to do some macro photography and this is something I was hoping to encounter on this trip. So after photographing the desert flowers for awhile its time to make some more tea and head back to camp for lunch.
It is quiet in the jumbo rocks campground which is nice for a moment to have a refreshing meal and take a quick nap. While I'm at camp making plans for the afternoon and evening I notice how cool some of the landscape surrounding the campground itself is and take a moment to explore around and admire the shapes and scenes.
So after a quick hike across the terrain surrounding the campground I head off to scout out Baker Dam for a potential photography location. It is a rather intermediate hike to Baker Dam and being fairly well trafficked and straightforward not too hard to find. The dam and water mass is cool and there is plenty of interest to focus around for possible compositions. At the moment I'm just here on a scouting mission so the camera stays in the bag and it is clear blue skies with harsh light so it is also not anything compelling to me to photograph at the moment but take note this could be a good sunset location or for astro photography. After hiking around a bit more in this location it is time for a drive around the park as I'm only in JTNP for two nights so I feel its important to try to take in as much as possible. It is hard not to admire the different shapes and structures of the rocks in this area, which is even more interesting are the humans that test their nerves and skill by climbing these boulders.
It is getting close to sunset the sky is still looking flat with minimal interest for clouds or potential color. Deciding to head back to a location I found earlier in the day somewhere along Queen Mine road off into the dusty desert landscape I go to get lost for the evening. Eventually settling on a spot that overlooks the terrain and an open space full of Joshua Trees with a nice mountain backdrop to accent the foreground. In order for me to get the composition I need I set the tripod up in the back of the truck bed I rented and enjoy the view of the sunset over the land.